Grandmaster William Cheung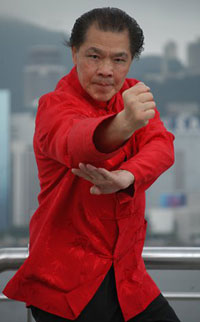 Doctor William Cheung is the Head of the World Wing Chun Kung Fu Association, leading over 80 schools worldwide. He is the Grandmaster of the Traditional Wing Chun and Chinese Medicine Doctor. Today, William Cheung is the unique successor of the Chinese Wing Chun Kung Fu lineage; starting from Ng Mui, Wing Chun mother-founder, he is the eight Wing Chun Grandmaster.
He is called Masters' Master. Cheung went through a long way to such an acknowledgment all over the world. William Cheung (Zhāng Zhuóqìng) was born in 1940. In 1954, William met Yip Man, a well-known Martial Arts Master, and was his live-in student for over 4 years. Since there, William Cheung devoted his life to Wing Chun research and development.
The future Grandmaster inherited from Yip Man the complete system of knowledge, including three elements: treatment, energy accumulation, and effective fight system. Young William Cheung has learned the Traditional Wing Chun system very deeply, so he managed to win the Kung Fu elimination contests in Hong Kong, defeating much more experienced opponents. These years, Cheung also made friends with Bruce Lee, future cinema star, and introduced Bruce to Yip Man. Since usually novices were trained by Master's senior disciples, William Cheung himself was directly appointed to train Bruce Lee. Grandmaster passed him on many techniques, that afterwards were spectacularly represented in movies. They were really close friends, and till his last days, Bruce Lee rested in contact with the Grandmaster either via mails or phone.
In 1959, William Cheung left Hong Kong and moved to Australia to get an Academic Education. He entered the Australian National University in Canberra. Together with his teacher he pursued practicing Wing Chun. In 1865, the Grandmaster Cheung founded the first Kung Fu Wing Chun club at his University. After having been graduated with a Bachelor of Economics in 1969, the Grandmaster totally immersed in theoretical Wing Chun researches and practical trainings with faithful students.
In 1973, William Cheung founded Australian Wing Cheung Academy in Melbourne, and after three years he was elected as the President of the Australian Kung Fu Federation.
Soon the Grandmaster was appointed as a Chief Instructor to the U.S. Seventh Fleet based in Yokosuka, Japan. Throughout two years, he was in charge of the intensive mental and physical development program of close quarter hand to hand combat for the American marines.
William Cheung delivered lectures in the Inosanto Academy of Martial Arts in California, and in Martial Arts Academy of Chicago. Subsequently, Dan Inosanto, today's famous master of different martial art systems, became a student of Bruce Lee, the author of Jeet Kun Do martial art system.
Many of William Cheung's students have achieved international recognition. In 1982, his students won the heavyweight and middleweight divisions respectively in the World Invitation Kung Fu Championships held in Hong Kong. Today, they themselves are Wing Chun trainers: Sifu Cedric Azemat in France, Sifu Stephen Ruiz in Canada, Sifu Eric Oram, Masters Phillip Redmond and Keith Mazza in USA. In total, the World Wing Chun Kung Fu Association has Offices in 17 countries.
In 1983, William Cheung was inducted into the "Black Belt Hall of Fame" as Kung Fu Artist of the Year and in 1989, he became a Martial Arts Instructor of the Year.
In 1984, at the Harvard University, Boston, the Grandmaster Cheung set the world speed punching record of 8.3 punches per second!
Shortly after the Australian Wing Chun Academy was found, William Cheung played in his first movie, Wing Chun Kung Fu, filmed by Golden Harvest Film Company. Today, Grandmaster is often being invited to assist and consult directors and actors. For example, he assisted in fight scenes production in Matrix by Wachowski brothers, good friends of William Cheung. Grandmaster's disciples also popularize Wing Chun in cinema. In 2009 Robert John Downey Jr. played in Sherlock Holmes. This well-known actor practices Wing Chun with Sifu Eric Oram (leader of the Wing Chun Kung Fu Headquarter in Los-Angeles), and has perfectly shown this style in the movie.
Throughout his life, the Grandmaster William Cheung has produced many videos and authored several books, overread both by novices and masters. The most known among them are "Wing Chun Bil Jee", "Wing Chun Butterfly Swords", "Wing Chun Dragon Pole", "How to Develop Chi Power". For the moment, Grandmaster William Cheung and Sifu Igor Tunik jointly work under a book with a code name "Business of the Wing Chun Style".
Yip Man, the Teacher, passed on to Willian Cheung more than 500 ancient scrolls with medical researches. Ancient secrets of Chinese doctors were being passed on across generations during two millenniums. The Grandmaster keeps on build up the knowledges, got from his Teacher, in the fine system, called Dr. Cheung's Meridian Therapy. This system has been thoroughly examined and tried out by American and European medical specialists; for now it is used in hospitals and clinics all over the world. Doctor Cheung successfully treats people and holds Meridian Therapy workshops in over 10 countries. The Therapy is based upon a simple, but effective principle: preventing illness and removing causes, not consequences. Doctor Cheung gives notice to patient's pain control and relaxation while treatment, and insists that meditation and Chi power control help reducing stress and strengthening a whole body in order to resist disease.
Doctor Cheung has developed healthy, educational programs and internal energy management system. Master is generous in sharing his knowledges while Chinese Meridian Therapy and Chinese Phytotherapy workshops and seminars not only in Melbourne, but worldwide.
Besides, the Grandmaster organizes business workshops, containing programs for human power enlargement, stress control, working efficiency improvement through body strengthening, energy excitation, and meditation. He developed special programs to help professional sportsmen to successfully reach their goals. For military men, a complex of exercises was compiled for perfect reaction efficiency.
It is Cheung's mind that stands beyond the power and strength of each Grandmaster's movement. A tranquil mind, which lays on the logic in stressful situation definitely defeats an aggression. Thus, every action must be apprehended, no matter is it in a training hall, on a fight, or in the daily life.
Those who happened to know William Cheung personally affirm the Grandmaster is an all-around, very superior man, deep thinker and philosopher. In his 70, this charming, optimistic man, full of love towards his disciples, has an incredible sense of humor. He believes the honesty and fidelity consist a foundation for a true friendship. As a Teacher, William Cheung is attentive and strict, being a real example of the Kung Fu spirit.
Quotation: "You are not what you are, but what you do!"